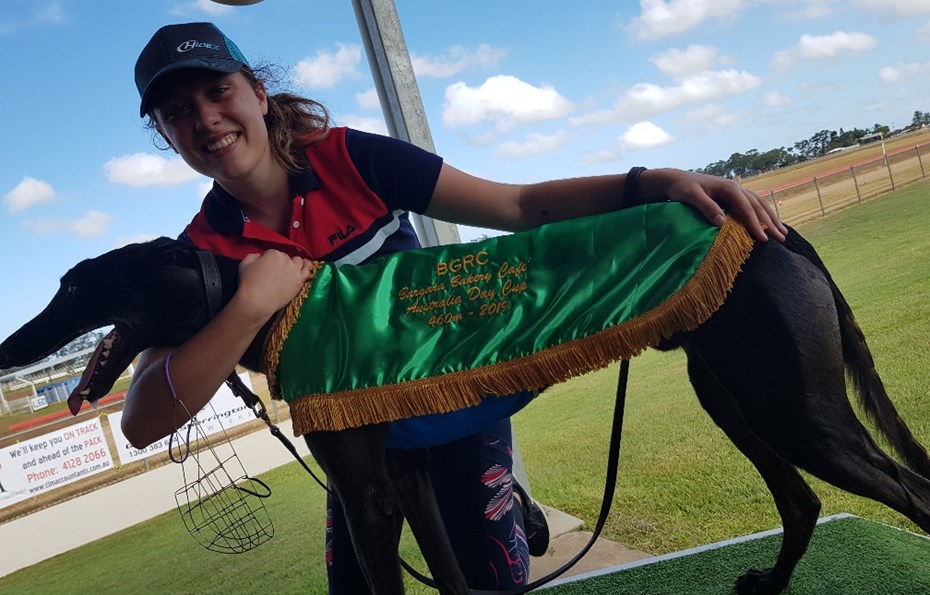 Feature Races... and the Winners are...
Tue 5 March 2019
2019 Bundaberg Young Guns 550m
Sponsored by: Ray Edward Real Estate
'Tinkies My Mum'
Owned by Gaynor Lowe
Trained by Thomas Lowe
Affectionately known as 'Patches' this was a popular win with everyone at the track.
The results were:
Tinkie's My Mum (4)  - Thomas Lowe
Richmer Assault (5) - David Plummer
Belli Blue (7) - Eric Conroy
Blue Jillem (8) - Peter O'Reilly
Time: 32.46
Margins:  1 1/4  x  1 1/2
The Bundaberg OAKS over 550m
Sponsored by BIZ PRINT
Congratulations to SASSY OAKS
This little brindle girl is owned by L & L Cooper and trained by Michael Edwards
The results were:
        Sassy Oaks (8)
        Foxy Fireball (2)
        Madam Shacoby (9)
Others: Tinkie's My Mum, Wicked Tay, Lallybroch, Rough Odds, Enough Knowledge.
Time: 32.21      Margins:  Head  x 2 3/4   
Scratched: Fashion Flirt
*This was the 2018 event which was deferred due to track maintenance*
**'Uncle Rusty's Photos' provided the image below**
Bundaberg Oaks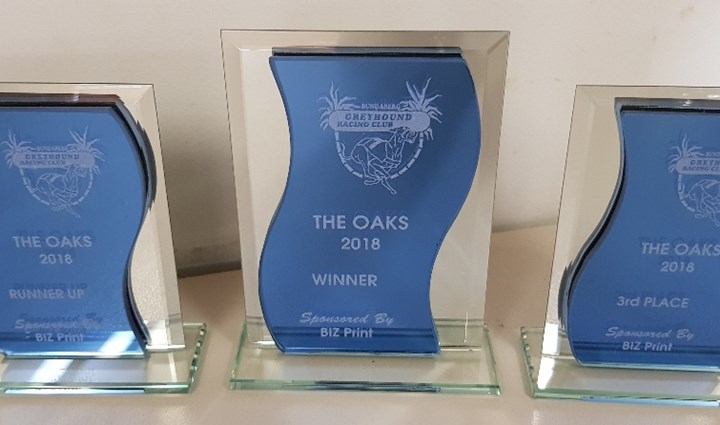 Bundaberg Derby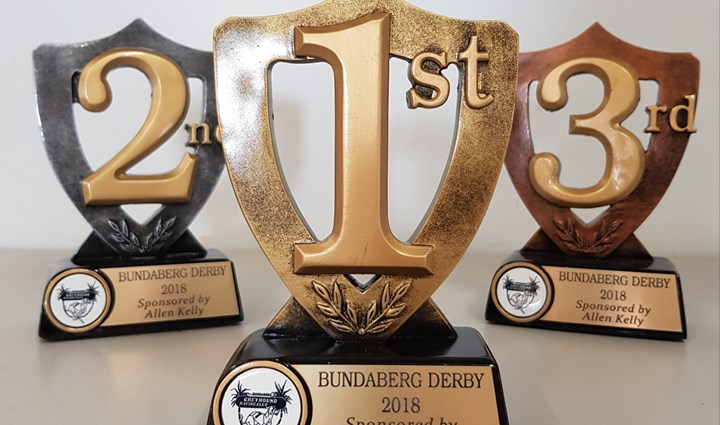 The Allen Kelly Bundaberg Derby
[the 2018 deferred event]
Congratulations to FIRE FLY JAKE
Owner: Trevor Wilson
Trainer: Narelle Mulcahy
The 2018 event was deferred due to track upgrades, and the race was re-scheduled to February.
We're proud to present the winning dog and connections.
The results were;
Fire Fly Jake (5)
Mr Apollo (3)
Cambla Cruiser (2)
Time: 32.25      Margin:  1/2  x  2 3/4
This is a link to video of the Derby:
https://drive.google.com/…/1xzYQJqpvHwEioRUzXXmPK2Lk1W…/view
Thanks to Uncle Rusty's Photos for capturing the presentation & allowing us to use the images
* * * * *
Australia Day Cup 2019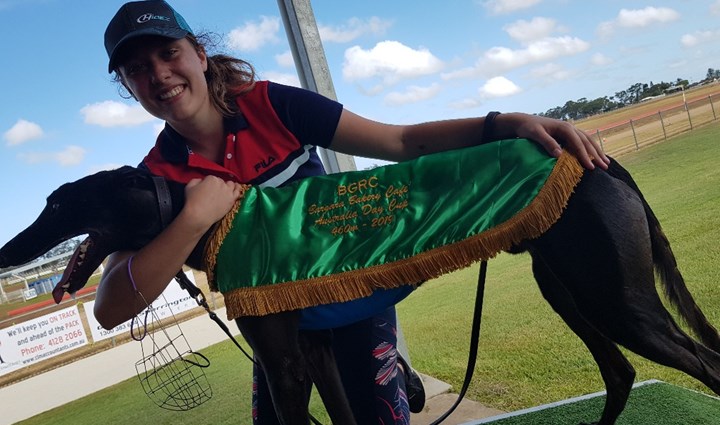 Australia Day Cup 26th January 2019
Sponsored by Bargara Bakery Cafe
Mr Apollo - Owned and trained by John Kuhn won the coveted Aussie Battler Event for 4/5th grade dogs over 460m.
Runner-up - Our Cambla Boy - Owned and Trained by Louise Cameron
3rd placegetter - Cambla Yap Yap - also Owned and Trained by Louise Cameron.
Sincere congratulations to all the connections, and acknowledgement of the great runner we have in Mr Apollo, he's a charming big boy with 'great legs'.
Race details:
1. Mr Apollo (4)
2. Brandy Cambla (5)
3. Glen Cambla (7)
Others: Dodgy Credit, Allegro Dottie, Stilton Ali, Crazy Cambla, She's Cranky
Scratched: Gallon of Cambla, Belli Blue
Time: 26.36   Margins:  6  x  3
**The young lady handling Mr Apollo is Michaela Kuhn, and she thanked her dad, John, for allowing her to take on the task for the Cup.
Well Done, to the pair of you.
* * * * * 
Bundaberg Country Cup 2019
The Bundaberg Country Cup was run on Saturday 12th January, and the winner was Foxy Fireball, Owned by David Plummer and trained by Marie Richards.
The image above is BGRC Committeeman, Rick Hassall presenting the Winners Rug to "Foxy Fireball" and Marie & Graeme Richards.
The 4 top placed dogs now travel to Albion Park on Thursday 24th January to compete against the top 4 dogs from Townsville.
The Bundaberg contingent is;
Foxy Fireball  - Marie Richards
Tinkie's My Mum - Tom Lowe
Betta Be Bundy - Tim Jones
Hara's Skylah - Darren Taylor.
Good luck to the Bundy Crew as they go up against the 4 best from Townsville, competing for a total prizepool of $20,600 thanks to Racing Queensland.
All finalists receive $1,000
Prizemoney for the Country Cup Final is;
1st - $8,400
2nd - $2,400
3rd - $1,200
4th - $600
Christmas-Cup2018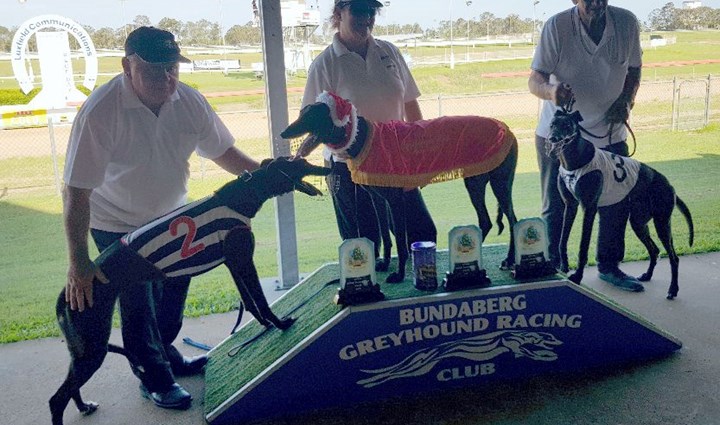 Uncle Rusty's Photos Christmas Cup 2018
22nd December 2018
Winner:  Cambla Lala (8)
Owned & trained by Louise Cameron
2nd: Let's Go Fabio (3)
Trained by Doug Gladman. Owner: Gladman Racing
3rd: Tinkie's My Mum Trainer: Tom Lowe. Owner: Gaynor Lowe.
Russell Minter (Uncle Rusty) donated the beautiful Christmas themed trophies and presented them to the 3 placegetters.
The Winning Dog also received an embroidered rug.
Congratulations to the connections of all the dogs entered, it was a thrilling event and a credit to all concerned.